The School of Equine Shiatsu was founded in 2000 in England, near London, and has been successfully passing on the knowledge in the area of equine shiatsu. In the beginning it offered short weekend courses which later grew into what the school represents today. A new group of students enrolls in the school every year and more than 200 students from all over Europe went through this school.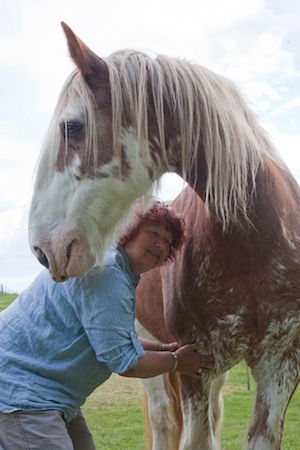 We can say that Jill Blake is the driving force of The School of Equine Shiatsu. Jill has been working with horses for over 50 years. In 1968 she passed her BHSAI exam (British Horse Society), in 1977 she started the South Downs Group Riding for the Disabeled and was in charge of the therapeutic riding. She had been teaching for many years before she started teaching shiatsu. She wanted to deepen her knowledge of shiatsu so she finished a three-year course for a human shiastu practitioner at the European Shiatsu School.
We must not forget Rupert. Rupert is in charge of the office at The School of Equine Shiatsu, he makes sure that everything goes well and on time. He takes care of all those things not so obvious to the rest of us, but nevertheless important so that the school can function properly. Yes, you guessed, Rupert is Jill's husband. As it's known, behind every successful woman there stands a successful man. Jokes aside, Jill and Rupert make a great team.
Except from the two of them some other teachers and some of the former students are also on the team. They help and assist with the work at the school.
Meet Jill and The School of Equine Shiatsu:
VIDEO: www.youtube.com/watch?v=riLesntUE3Y
The School of Equine Shiatsu is one of the founders of the Equine Shitsu Association known as tESA, which as a professional association promotes shiatsu, brings together the practitioners and sets the standards and code of ethics.